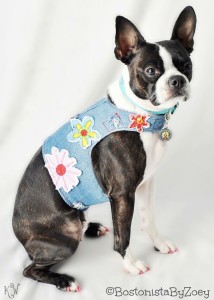 This harness is Far Out man!   My photographer thought this harness was so cute she just couldn't quit talking about it. It's very well made, so it's completely functional to use on leash for walking while still looking sassy and fab!  It has very pretty, colorful denim flower patches randomly placed all over that every groovy pooch will DIG!  This harness seems to be made for those girly little pocket pooches because I  normally can get away with wearing a medium in most everything but I took an  XL with this one. I'm a very fit bostie with a 19 inch chest girth and an 11.5 inch neck, so just keep in mind it does seem to run small.  Mom found this harness in a pet boutique in Sante Fe on vacation but we've seen it in many online pet stores such as Baxter Boo, the tag reads Cha-Cha Couture.
 I matched it up with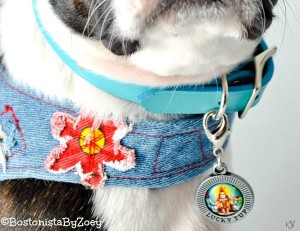 two of my super cute collars and ID tags.  The first is a turquoise leather studded collar, size 12, from Petco accessorized with the coolest ID tag by Lucky Pup. The front of the tag features a colorful picture of SHIVA, Hindu God of destruction-What could be more appropriate for a Boston? 😉 The back of the tag is engravable and it is offered in small and large, I chose large cos I like my tags to really show up.  The other collar I paired up with this harness is a pretty pink leather collar adorned with  colorful daisies, size
12. I've been able to find this collar on google at many online pet boutiques like bigdogboutique.com .I found the perfect daisy ID tag to wear with this collar from Red Dingo . I love Red Dingo tags, they are big, bright and colorful and they have so many fun choices!  They are made of stainless steel and enamel so they are very durable and the back of the tag is engravable. They offer small medium and large, I chose medium.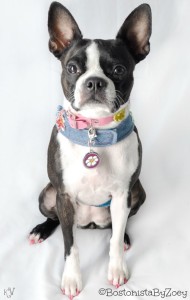 I just love it when an outfit comes together, especially when you don't have to give up fab for function. If a cute harness can stand up to a bostie on leash than it's a WIN!  You will definitely be serving up the cutesauce when wearing this dish.  All you pooches with a  free spirit and an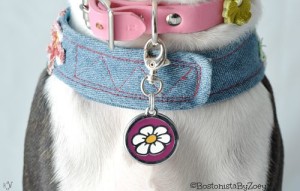 inner flower child waiting to come out and play this is the gear for you!
*This is not a sponsored post, all items are owned and purchased by me,  Lisa Pruitt (Zoey's mom) and all opinions are my own.