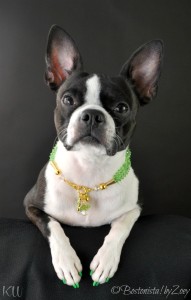 You know I'll take any excuse to dress up and St. Patty's day is no exception! One of the prettiest and blingiest green items I have is this Mhu Ghu Swarovski Pendant Dog Necklace. I feel like Elizabeth Taylor in these baubles and all the other pooches are GREEN with envy! There are three strands of translucent green beads, hand strung on really strong wire, clasped together with 24K plated hardware.  The beautiful charm at the front is encrusted with green Swarovski crystals in the shape of a  precious paw print! I have an 11.5″ neck so I ordered the medium and it fits great. This is meant to be worn as a necklace and it really does lay like a necklace so don't expect it to be high and snug like a collar but DO expect it to be FABULOUS. I've seen this necklace at online boutiques such as Pampered Dog Gifts and Baxter Boo.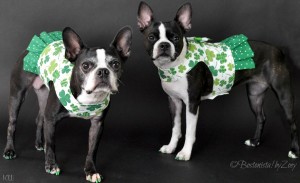 Now everybody knows I'm not big on wearing dresses, I'm more of a tomboy with diamonds kinda girl BUT I did make an exception for my Grammy. I must admit this dress is very cute and exceptionally well made. It's a custom handmade dress/harness with velcro fasteners around neck and waist, made for my 19″ inch chest girth. It has a D ring on the back just below the bow so it's completely functional as a walking harness. The fabric looks and feels very durable, and the construction is fantastic. My Grammy ordered this from the Etsy shop GraciesPawPrints. She has so many adorable harnesses, vests and dresses to choose from, and she takes custom requests, as was ours. You can even request the ruffle part to be left off… unless your Grammy likes ruffles then you gotta suck it up. We would definitely order from her shop again, excellent quality!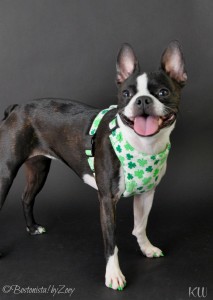 This is another handmade harness that we LOVE! We found this shop on Etsy too but now I see that they have their own website 3poochys. I have nothing but great things to say about the quality of this harness as well. They have a huge selection of fabrics/prints to choose from and the craftsmanship and construction are first rate, wonderful handmade product. Me and the Momma were browsing their site while writing this and I've already picked out my next ones! Oh, it's a medium.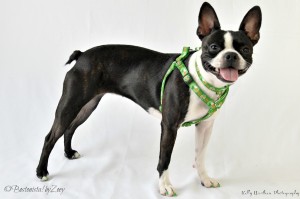 I think this is one of my prettiest step in harnesses and I wait all year long for March because I can't wait to wear it. We found this harness at The Artful Canine, an awesome homegrown business with beautiful collar and harness designs.  This one has the colors of the Irish flag in the shamrocks (kelly green, lime green, orange and white) so it's more decorative if you ask me. We also purchased the matching collar that already has it's own cute little shamrock charm hanging in front.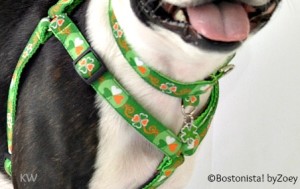 The sewn in D-ring with a charm is actually the Artful Canine's signature feature, and it's AWESOME because your charm is always FACE OUT and no where near leash attachment. I ordered a small in the collar which fits up to size 13″ necks and I ordered small in the harness which fits 14″ to 23″ chest girth, they are both 5/8″ wide.  Harness and collar are both a great fit, and I have received many compliments every time I've worn them. It's so Irish and so pretty it makes me feel magically delicious!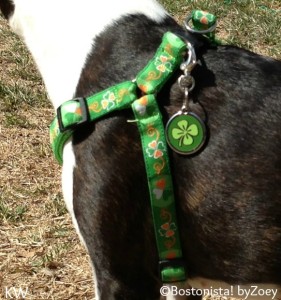 Last but not least is my awesome Red Dingo Shamrock Dog Tag! …Maybe the dingo ate yo baby?….Oops, sorry, get side tracked every time I hear the word DINGO. I LOOOOOOVE my Red Dingo dog tags! I have several and they are soooo great. I love how clear, big and bright colored they are, they really make a statement. I always order the medium because I like my tags to be in the spotlight. Red Dingo tags are made of enamel and stainless steel so don't think you're gonna break or chip these bad boys. The back is engraveable and there are many cute icons to choose from.  I love it when something cute is also functional, so for me it's a deal maker when the front is a pretty charm and the back is engraveable. You can't go wrong with a Red Dingo!
*This is not a sponsored post, all items are owned and purchased by me,  Lisa Pruitt (Zoey's mom) and all opinions are my own.