Hooded Sherpa Winter Coat   I had to have this snuggly, hooded fashion DO ,not only because it has its own bone on the back, but most importantly because bostie + hoodie = CUTEASTROPHE!  This winter coat is made by East Side Collection and mine is a size medium in black. I have a 19 inch chest girth and this coat fits just fine.  It's very soft and warm made with faux suede , a fleece lining and sherpa trim. The coolest feature about this coat is the detachable hoodie. There are a few snaps along the neck line making detaching and reattaching the hoodie super easy.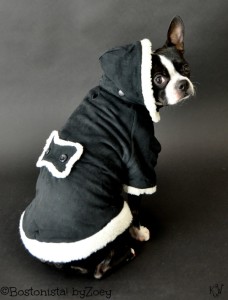 There is also a leash hole on the back and a velcro strip along the chest and belly for fastening. I've seen this same coat in several online doggie boutiques like BaxterBoo and FunnyFur. Chocolate and black seem to be the most common colors offered but I noticed that FunnyFur has them in purple, raspberry and even grey. I'm LOVIN' the raspberry and purple, might be time for my black one to go missing…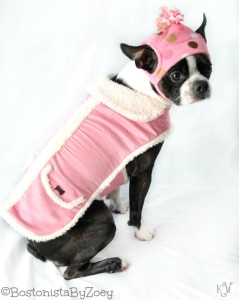 Winter Polka-Dots  The momma says I look like a polka dot Yoda! Mad at her I am….Anyhoos, I think this is the most adorable winter hat EVER! The tag says S/M and it has a snug little under the chin strap. Sometimes it can be hit or miss finding a good fit with doggie hats so we were super pleased to find that this one fits perfectly.  It doesn't slip or slide its way off my short, boxy boston head and I love the cute little pompom on top!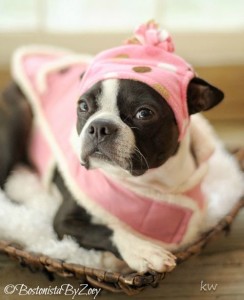 We found the hat at  Petco and  it did have a matching polka dot coat to go with it, which the momma chose not to purchase. She decided to match it up with this solid pink coat that we already owned.  The pink coat is a medium and was purchased at Wal-Mart, it  just happened to match the hat very nicely.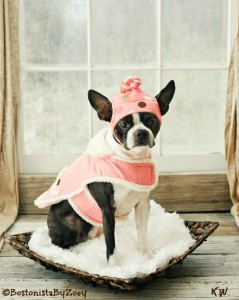 It velcros around the chest and belly and has two little faux pockets on the back. Two of my favorites, polka dots and pink,  love it I do!
Luxurious Leopard   Ohhhhhh I LOVE this coat, this is the Ivana Trump of my winter coats!  This is called the Hippy Dog Coat made by DOGO  and it comes with a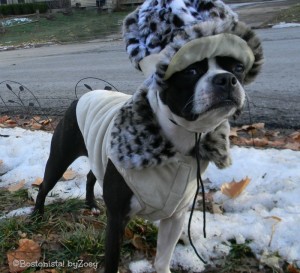 matching hat.  It is very well made and UBER chic, it's no wonder all the other doggies have fashion envy when I walk on by! The furry leopard trim on the collar also lines the entire inside of the coat making it so snuggly and warm. The outside of the coat is very smooth and soft and also has a hole for the leash in back.  There is a velcro strip down the chest and belly for fastening. It does seem to run small because the large fits my 19 inch chest perfectly.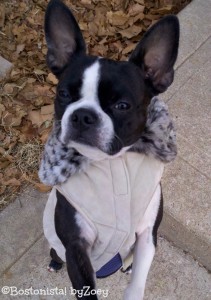 The hat is one of those hits or misses. It is quite large so it was a challenge to get it to stay on my head but all is forgiven because it's vogue factor trumps any functional hiccups.  Overall, FABULOUS coat fit for FABULOUS me 😉  If you want one of these bad boys you better do it quick because they are becoming hard to find. It also comes in pink and green/brown, I was able to find them at Luxury Pet Boutique and that's about it. Hurry!  Now go strut your Leopardess-Ness!
*This is not a sponsored post, all items are owned and purchased by me,  Lisa Pruitt (Zoey's mom) and all opinions are my own.