Tails for Ta-Tas 2014 Raffle! ( 10/29/14)
Today is the day! I drew our winner this morning and can't wait to share the video! Thank you to everyone who participated and congratulations to our winner. Picking our winner is always so much fun, I wish I could pick you all. The momma will have our Tails for Ta-Tas totals for donation posted in the next few days,  thank you everyone xoxo!
An enormous shout out and thank you to our sponsor Motion Video for purchasing our awesome prize! We personally know the great work these guys do because they video'd the momma's wedding! For awesome event/wedding videography and video surveillance you can check them out at motionvideoflorida.com.

Gearing up for Tails For Ta-Tas 2014! (Sept 17, 2014)
Hey everybody! It's that time of year to pull out your pink leashes, bandannas and harnesses, Tails for Ta-Tas 2014 is right around the corner! We've decided to move the location this year to a much shorter path at a much more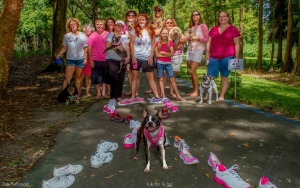 shaded park, we'll even have our own pavilion with water faucet to keep our pink pools filled!  The shortest trail to choose from is about a mile  which will work out great for our short mugs.   Come walk with me and my BFF's at Lake Parker Park  910 E Granada Street  in Lakeland FL October 18th at 9am, park and meet at the Cypress Pavillion. Please use the Granada street entrance and continue to drive on through the park until you come to the Cypress Pavillion, it's further back.  We did an amazing job last year and raised almost $1200 for the American Cancer Society, I hope you will help us surpass last years achievements. You can support our efforts and  join and donate to our team here! In the coming days we will have our raffle in the works and will be selling tickets towards our goal. We look forward to you being part of our team and joining our efforts to support cancer survivors and cancer research! Hope to see you soon xo!
Find this event on FACEBOOK here.
Need Tails for Ta-Tas gear? Go here!
****100% of  funds donated go to American Cancer Society Making Strides Against Breast Cancer, provided donation links above are directly linked to the American Cancer Society.*****