ANNOUNCEMENT!- ANNOUNCEMENT- got the OK to park at Florida Southern College today! Much less busy than the public lot so should be much easier for us to gather. As you travel around Lake Hollingsworth you will come to Florida Southern College, a huge white building on the corner of JOHNSON AVE. turn down Johnson ave and there is a parking lot on the right available to us about a block from the lake. Robert A Davis Performing Arts building is in the corner of the lot. Once you've parked take a short walk down Johnson Ave toward the Lake, and cross the street. Our Tails for Ta-Tas station ONE will be set up right there as our MEETUP POINT. Me and the momma will be there waiting and we will have two people there available to handle walker donations as well as raffle tickets! PLEASE forward this to ANYONE you have invited or you know is coming. See you soon!!! xoxo!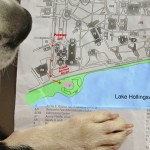 Team Tails For Ta-Tas is back!!  It's that time of year, breast cancer awareness month is around the corner and we are dusting off our pink sneakers and Tails For Ta-Tas gear!  If you remember, last year was our first dog walk for breast cancer and it was a fantastic success, we raised almost $900.00!  We created Tails For Ta-Tas because we wanted to walk with our dogs and our local breast cancer walk did not allow dogs during the October walks , so we made our own!  The American Cancer Society graciously allows us to create our team directly on their Making Strides Against Breast Cancer website so all donations through the website go DIRECTLY  to them, it's so convenient and easy. This year our dog walk will be held again at Lake Hollingsworth, Lakeland FL, Sunday, October 13th  at 9am!  This is such a great opportunity for us dogs to do something wonderful for our humans, please join us.  We kindly ask that all walkers  make a minimum donation of $5.00  If you are unable to join us for the walk, no worries we understand, your thoughtful donation means the world to us!  We thank you so much for your support and participation and truly hope to see you again this year.
Make a donation and/or join our team: CLICK HERE
Zoey's personal goal page : CLICK HERE
Get your Tails For Ta-Tas gear! CLICK HERE
Take a peek at the great time we had last year!