Contest starts TODAY May 24th 1:00pm EST and ends June 2nd 1:00pm EST. Enter BELOW!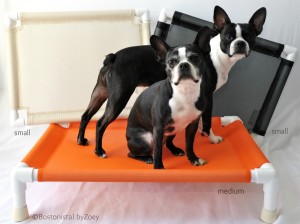 Win a MEDIUM Bostonista Bed!  Win one of Zoey's own Bostonista! elevated pet beds! These beds are part of our dog life, we take ours everywhere, especially to outdoor places we think might stir up Zoey's allergies. It's perfect for the beach, pool, dog friendly restaurants, ball games, the park, charity events and much more. It keeps her off dirty floors, patios, hot sand, muddy grass and ant beds, when you're done just hose it down. These beds are handmade at our home by Zoey's Grammy, Papa John and Auntie Pam, in small, medium and large and they are NON SKID! *no purchase necessary- freeeeeee!*
Medium Bed  22 inch x 29 inch – color choices- black, navy, hunter green, teal, orange, yellow, maroon, pink, beige.
Enter our raffle to win a free MEDIUM  Bostonista  Bed!   Winner Selection: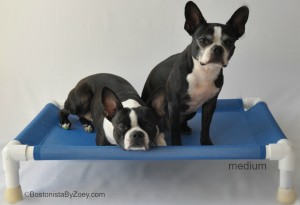 A pool of twenty FINALISTS will be selected by a raffle-copter random drawing. From this pool of twenty finalists ONE FINAL WINNER will be selected by a random drawing that will be filmed and posted within 48 hours of end of promotional period. Must be 18 years old, no purchase necessary, email address required to enter, USA  and Canada RESIDENTS ONLY this time (more contests coming soon to include everyone) more chances to win can be earned by following prompts in raffle box but are not required. Winner will be notified by email at the email address provided on the Entry Form on or about 48 hours after the random drawing. Enter Contest Below!